How to Advertise on Facebook?
Facebook has been a game-changer for online advertising. As the world's largest social media platform featuring a staggering 2.93 billion monthly active users, reaching your target audience is virtually guaranteed.
However, competing for attention on Facebook is complex, as millions of companies target their audience with daily online ads. This means achieving your goals requires a strategic approach.
Looking to get started? Here, we cover how to advertise on Facebook, what it takes to stand out on the feed, and a selection of best practices that help promote your products and services with a fascinating campaign.

Types of Facebook Ads
Facebook is an attractive option for social media advertising because there are numerous engaging ways to attract your target market. Consider how these types of Facebook ads help your business accomplish its objectives.
Photo Ads
As the most basic Facebook advertising format, Photo Ads provide a straightforward method for showcasing your products and services. Alongside a distinctive, high-quality image that inspires your customers, a razor-sharp message that communicates what's special about your brand ensures your call-to-action has the greatest impact.
Video Ads
People love to watch videos on Facebook, meaning an immersive video ad can generate enormous returns for your business. Across video ad formats for Feed, Stories, and Reels, you can engage your audience with a varied approach that enhances your results. This format ensures you generate massive brand awareness and click-throughs when used effectively.
Stories Ads
Stories are a relatively recent addition to Facebook, but they have quickly become a popular way for brands and individuals to connect with their followers. In much the same way as TikTok and Instagram, you can share insightful moments about your business that establish trust and loyalty with your organization.
Messenger Ads
With over 1.3 billion people using Messenger weekly, serving ads in this high-traffic position gives your business incredible opportunities to reach and convert its target audience. For example, you can share targeted ads in the Chats section while sending sponsored messages in a remarketing campaign. 
Carousel Ads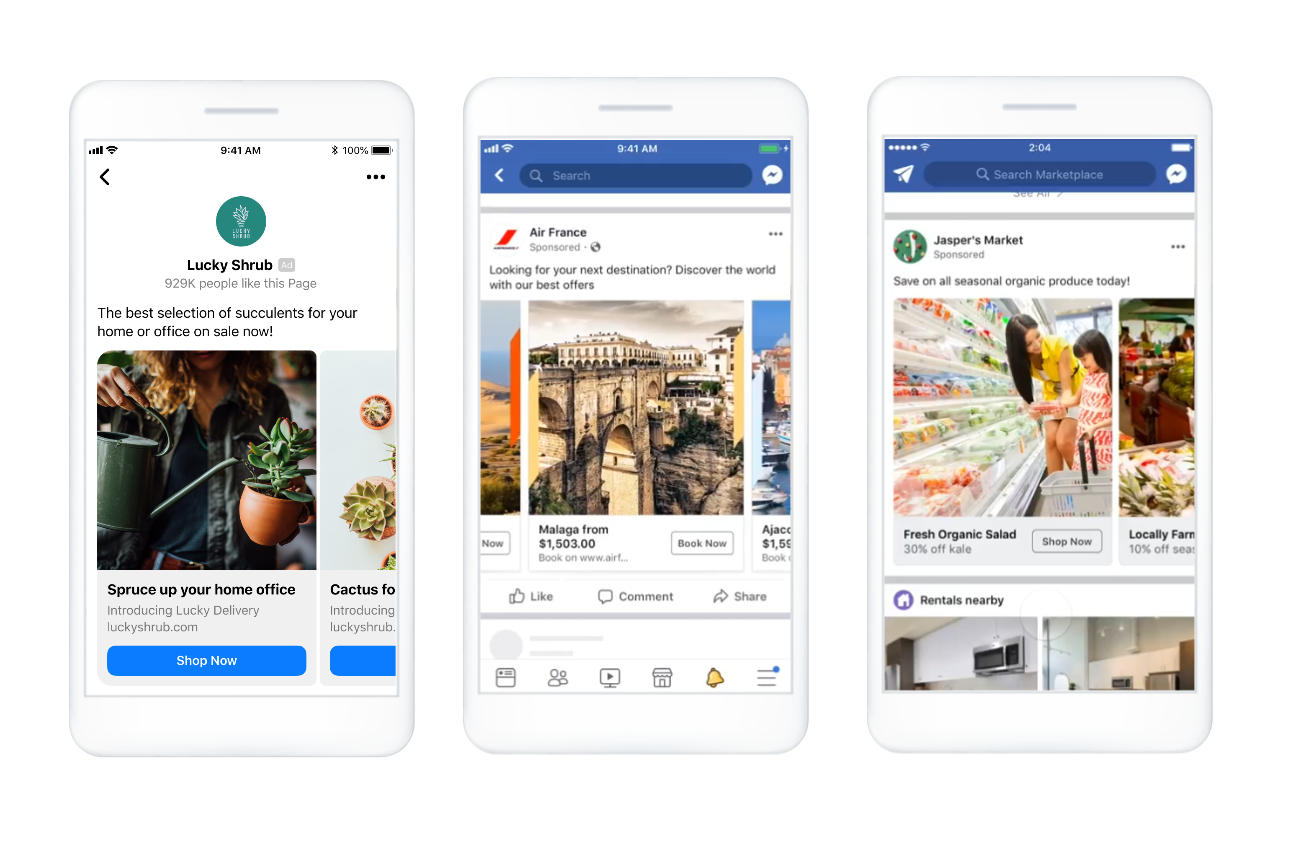 Help users discover more about your business with Carousel Ads. With these sequences of images or videos allowing you to showcase single or multiple products, this is a stellar way to give customers the confidence they need to purchase. This approach highlights your brand story from numerous perspectives.
Slideshow Ads
Slideshow Ads are perfect for creating an engaging experience. Supported by motion, sound, and text, you can swiftly guide users toward your website. While these ads are similar to video, they require far less data, making them highly suitable for targeting markets that typically have older devices and slower internet connections.
Collection Ads
If you have a new product you want to highlight, highly visual Collection Ads are a brilliant solution. Here, you can upload a primary image and three smaller ones, helping your audience get to know your item. Once users select an image, they're instantly taken to a fast-loading in-app catalog that links to your website's store.
Facebook Ads Cost
As you might expect, your advertising budget plays a significant role in your success. The good news is that Facebook ads cost some businesses just a few dollars per day to achieve their goals. 
However, with numerous factors determining the ultimate cost of your campaign, it's not unusual for larger organizations to spend tens of thousands on their campaign per week. Fortunately, Facebook makes it easy to control your spending regardless of your approach.
Backed by a personalized Facebook advertising strategy that targets your specific audience with a compelling message, it's possible to generate a first-rate return on investment that levels up your business.
Tips for Running Facebook Ads 
After choosing a Facebook ad format and budget that suits your needs, you need to apply several other best practices to ensure your campaign reaches your audience and grows your company. Apply these tips for running Facebook ads to give your strategy the best chance of success.
Know Your Campaign Objective
Have a clear goal to avoid wasting your money on Facebook ads. Rather than approaching your campaign with a broad target that lacks specificity, know what you want to achieve and use Facebook's features to get results.
For example, if you're looking to boost your website traffic, Facebook's built-in Traffic campaign objective ensures you reach the ideal people. Based on previous activity, it will show your ads to users known to click links and even wait for the page to load.
Alongside campaign objectives for Engagement, App Installs, Lead Generation, Video Views, and more, designing your ad's content around a specific target aligns your strategy and keeps your attention on the prize.
Understand Your Audience
With billions of users on Facebook, it might surprise you that countless businesses fail to reach their ideal audience. Unfortunately, many brands don't bother to truly understand the needs and wants of their customer base.
You can develop a comprehensive image of your audience and their pain points by developing research-driven buyer personas. This will help you conceive a marketing strategy that addresses their concerns and ensures they see you as the solution. 
Meanwhile, Facebook Audience Insights can help you discover fascinating details about your brand's consumers, including demographics, location, device information, and interests, giving you a head start when developing a campaign strategy.
Design an Attention-Grabbing Ad
You need an eye-catching ad to achieve maximum results with Facebook ads. With a format that you know resonates with your target audience, you can design a creative solution that stands out when displayed on desktop and mobile devices.
Even if you have a complex message, keep text to a minimum to ensure your audience's eyes don't glaze over when they see your ad. Meanwhile, focus on contrasting colors that enhance your visibility in the feed.
A/B testing is also essential for discovering the best approach. This strategic method helps you appreciate how seemingly insignificant changes to colors and the copy can skyrocket your ad's performance.
Boost Growth with Facebook Ads
Embark on a data-driven Facebook advertising campaign to ensure your business outperforms its biggest rivals. Supported by the team at First Page, we can help your business execute a high-performance strategy that achieves your goals. 
With unmatched expertise from leading thousands of campaigns for clients around the globe, we know what it takes to deliver an impressive ROI. Get in touch with our friendly specialists today to learn how we'll grow your operation with Facebook ads.